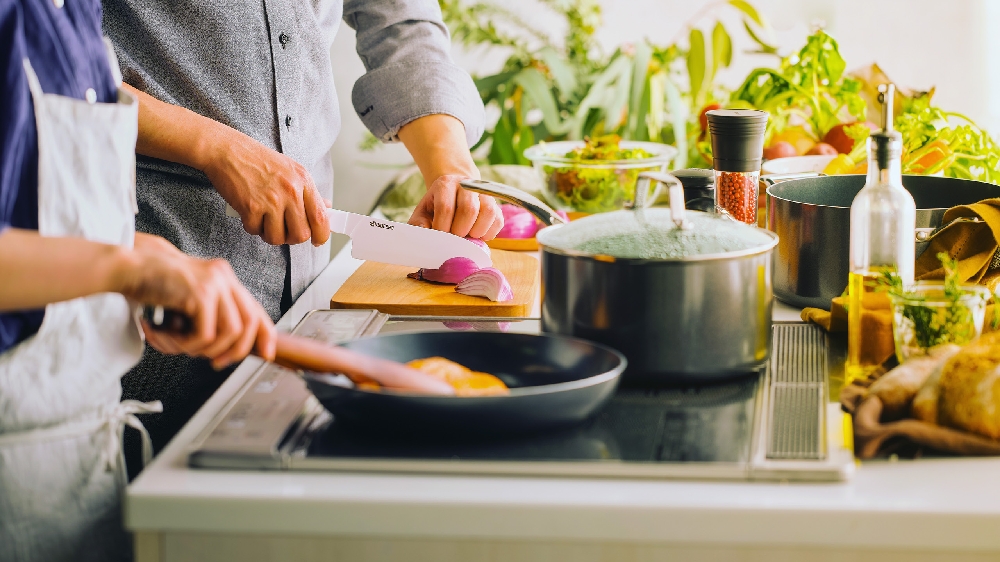 San Diego, Calif., October 16, 2023 – Kyocera, a leader in ceramic cutlery and kitchenware since 1984, today launched a new line of high-performance ceramic cookware just in time for fall holiday celebrations. The line features a proprietary nonstick ceramic-coated cooking surface that is free of PTFE, PFOA, lead, cadmium, fluorine, and heavy metals, with stainless-steel handles on an all-aluminum body for even heat distribution, faster cooking, and easy cleanup. The new series was specially designed for those seeking healthier cooking in an environmentally conscious kitchen.
Improved heat conduction in the ceramic cookware helps to brown foods evenly by reducing hot spots. Evenly distributed heat also makes it easy to sear meats at moderate temperatures, retain juices at lower temperatures, and thoroughly cook vegetables while conserving energy. The circular induction plate on the bottom of each piece makes this line compatible with virtually all heat sources up to 400°F, including gas, electric, ceramic glass, halogen, and induction stoves. The full line features low-profile, lightweight fry pans or skillets (three sizes), saucepans (two sizes) with glass lids, a grill pan and an everyday stock pot with a glass lid. MSRPs range from $40 to $80, with a three-piece fry pan set available for $135.
During early product development, Kyocera turned to its own diverse workforce for input on the most desirable features needed by home cooks interested in creating quick, healthy meals. Cooking at home became a greater necessity (and sometimes obsession) during the pandemic era, and higher rates of home cooking have continued even with a general return to the workplace. In fact, 44% of Americans reported cooking more often during the COVID-19 pandemic, and 32% cooked simpler, easy-to-prepare foods, according to Statistica. Recognizing this, Kyocera created its new advanced cookware to enhance the enjoyment of creating mindful, healthier meals.
"So many of us gained newfound cooking skills during the pandemic out of sheer necessity," said Yoshiaki Manaka, a Section Manager in the division that develops cookware at Kyocera Corporation. "We designed our new ceramic cookware line for cooks who are conscientious about their health and the environment. These non-stick pots and pans enhance everyday cooking with easy cleanup and no PTFE or PFOA chemicals."
For best nonstick performance, Kyocera recommends pre-heating any cookware at low heat before adding the food to be cooked, using a small amount of liquid oil (not aerosol sprays), and non-metallic pot and pan utensils. Kyocera's ceramic cookware line will be available in specialty and grocery retailers in October 2023.