What are ceramic knives made of?
Kyocera knives are made of an advanced, high-tech ceramic called zirconium oxide (also called zirconia). Zirconium oxide is extremely hard, wear-resistant, and chemically inert. For the technically minded, zirconium oxide has a hardness of 8.2 Mohs (vs. steel at 5-6 Mohs and diamond at 10 Mohs).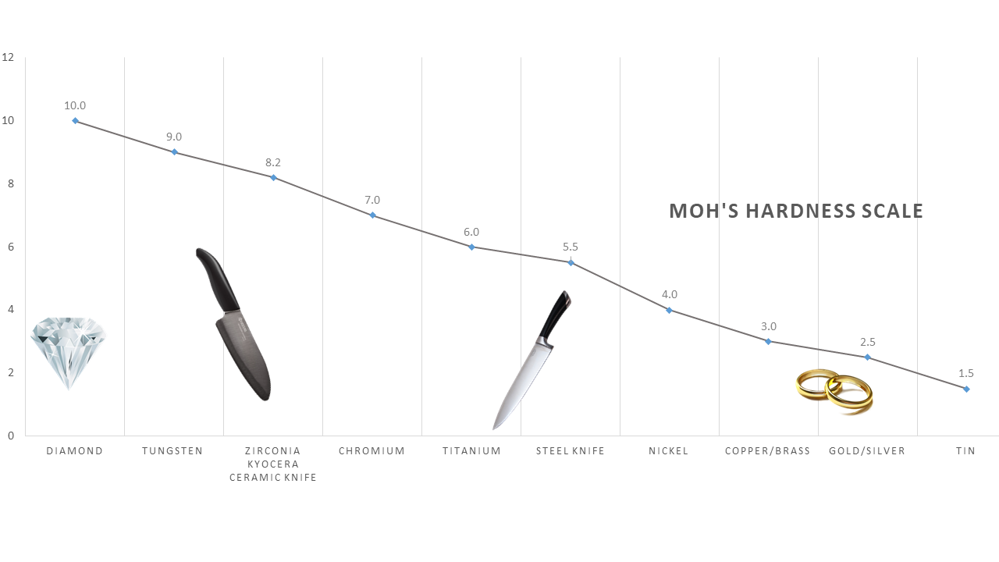 What sets Kyocera apart from other ceramic knife manufacturers?
Kyocera's comprehensive experience and capabilities in advanced ceramic technology have enabled the company to develop kitchen tools and cutlery that are of high-quality and performance. Not all ceramic knives are created equal. These unretouched photos show a Kyocera advanced ceramic blade and another ceramic brand magnified 562 times. Kyocera's micro-grain ceramic is denser, and its cutting edge is sharper - just two reasons that Kyocera is the undisputed worldwide leader in ceramic cutlery.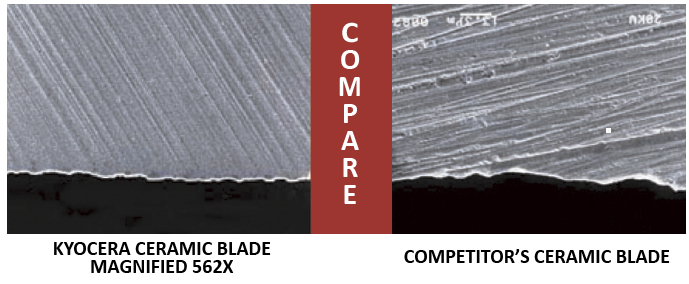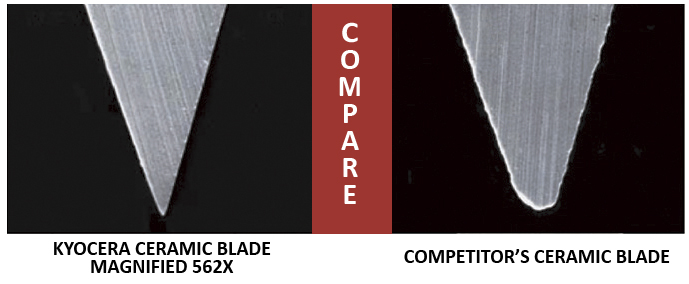 How do I sharpen ceramic knives?
You can sharpen your ceramic knife by using a Certified Knife Sharpening service that uses a diamond wheel or purchase a Kyocera home sharpener with a diamond wheel as it's a great at-home solution to refresh and sharpen Kyocera blades.
Will a ceramic knife break if I drop it?
Any knife, whether stainless steel or ceramic, will potentially break if dropped on a hard surface at a certain angle.  Our authorized resharpening service provider, EVERSHARP offers an outstanding sharpening and repair service removing any chips and sharpen the knife back to its factory edge.
Can I put my ceramic knife in the dishwasher?
High-quality kitchen cutlery, including Kyocera knives, should not be placed in a dishwasher because over time, handles can warp. The knives are easy to hand wash after use and you can remove any stubborn discoloration on white blades with a mild solution of baking soda and water. If you prefer using the dishwasher, plastic-handled knives and tools knife should be placed on the top rack only.  
Do all Kyocera kitchen tools and cutlery come with a warranty?
All Kyocera knives come with a limited product warranty when purchased from an authorized Kyocera reseller or distributor. Please note that Kyocera products sold by unauthorized dealers are non-returnable and are not covered by the manufacturer's warranty.
Where can I buy Kyocera ceramic knives?
To check for the nearest physical retail store, enter your zip code in the Where to Buy page or google search keywords "Kyocera ceramic knives" to find an online retailer.
Where are Kyocera products made?
All of Kyocera's ceramic knives and kitchen tools are designed in Japan. At the same time, all our proprietary zirconia material used for our blades are manufactured in Japan.  Our KYOTOP, Premiere, and LTD series are exclusively made in Japan.  Some of our kitchen tools and Revolution series knives are assembled and sharpened in China.
How should I use my Kyocera ceramic knife?
For slicing fruits, vegetables, and boneless meats, a Kyocera advanced ceramic knife has no equal. Even so, ceramic knives are intended to complement -- not replace -- your other cutlery. Use steel knives for carving, prying, boning, cutting frozen foods, and slicing cheese. Avoid flexing or prying. Always use them on a plastic or wood cutting board and avoid cutting on marble, stone or inappropriate surfaces like plates or kitchen tile. For more information, please visit our Care and Use page.
What is the difference between a black hot isostatic pressed (HIP) blade and a white blade?
A black (HIP) blade is made out of black zirconium oxide and offers extra durability. This type of blade goes through an extra firing process called a "hot-isostatic press," creating a tighter weave between the ceramic molecules, thus creating a tougher blade. The white ceramic blade is also made out of zirconium oxide but does not go through this expensive sintering process.
What is the difference between the black and white blade in the Revolution and Innovation Series?
There is no difference between the black and white blades in the Revolution series and are made with the same zirconia Z206 ceramic material. However, the Innovation Series Z212 black blade is our latest proprietary technology, an extremely dense zirconia that maintains its sharpness 2x longer than our traditional Z206 blades which are used on our Innovation FZ white series knives.
Can I use a ceramic sharpening rod on a ceramic knife?
No. The ceramic sharpeners are used to sharpen all steel-based knives, including titanium because the same hardness principle applies. Ceramic is harder than all metals, so it is the ideal surface to re-sharpen these softer materials. However, you can use a home sharpener with a diamond wheel to sharpen our ceramic knives and are available to purchase in our kitchen tools/sharpeners section.
What are Kyocera's ceramic scissors made of?
These scissors are made of an advanced, high-tech ceramic called zirconium oxide (also called zirconia). This material, which is second in hardness only to diamond, was originally developed for industrial applications where metal components failed. Zirconium oxide is extremely hard, wear-resistant, and chemically inert. For the technically minded, zirconium oxide has a hardness of 8.2 Mohs (vs. steel at 5-6 Mohs and diamond at 10 Mohs).
Will ceramic scissors break if I drop them?
Ceramic scissors will not shatter when dropped. Like forged steel scissors, however, you can break the tip if the scissors land on the tip (very uncommon). You can also damage ceramic scissors by trying to cut very thick material or by trying to bend the blades. Ceramic blades are strong, but not flexible.
Who do I contact if I want to become a retailer or distributor of Kyocera products?
Email us at cpd@kyocera.com. We service retailers both directly and through our network of manufacturer's representatives.