FORMED BY NATURE, PERFECTED BY SCIENCE
Kyocera's comprehensive experience and capabilities in advanced ceramic technology have enabled us to develop kitchen tools and cutlery that are of high-quality and performance. Developed and manufactured in Japan, Kyocera's proprietary blade technology has become the benchmark in many key industries and is considered the leading brand in ceramic knives and kitchen tools.
| | |
| --- | --- |
|   | |
Like diamonds and sapphires, the elements of ceramic are formed in nature through thousands of years of crystallization, extreme temperatures, and literally tons of pressure. The result is a pure, dense, unrelenting material that is 50% harder than steel and close to diamond in hardness as shown in the MOH's Hardness scale below. Long-wearing and corrosion-free, ceramic parts, many manufactured by Kyocera,  are often used in bone replacement procedures, satellites, racecar brake pads and many other applications that require extreme wear-resistance. For those components that would virtually disintegrate if made from metal, ceramic is the material of choice.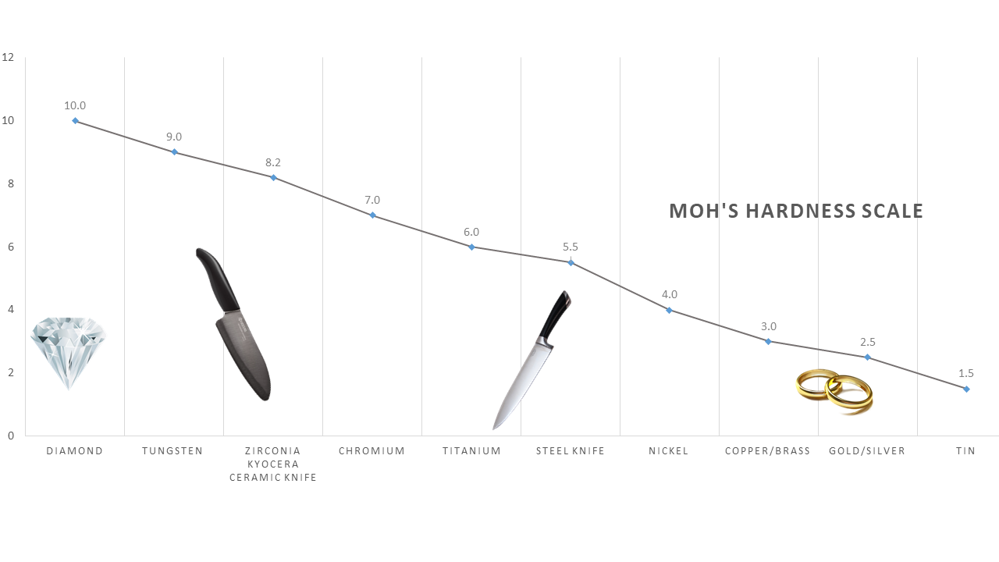 Unrelenting Sharpness
Kyocera advanced ceramic blades offer superior edge retention, holding their edge longer than traditional kitchen knives.  Brand new ceramic, high carbon, and stainless steel knives were put to the test through a Honda testing machine.  A stack of paper was used as the test subject matter due to its more abrasive nature over fruits and vegetables. The sharpness tester held each blade with a constant force against the paper producing a 3.5" slicing action. The test was repeated 1,000 times, and ultimately the Kyocera ceramic blade stayed sharper much longer than the other two blades.
Unparalleled Purity
In addition, to wear resistance, Kyocera advanced ceramic knives are chemically inert so foods look and taste the way they should. The smooth, polished surface resists germs and is impervious to acids, oils, and salts so cleaning up is easy to do, simply wash and let dry. Because they are ceramic, Kyocera knives and kitchen tools won't brown foods, won't transfer a metallic taste or smell, and will never rust.
Ultra Lightweight
Half the weight of traditional knives and kitchen tools, Kyocera's products provide a new experience in cutting fruits and vegetables. Perfectly balanced and lightweight, our ceramic knives reduce fatigue during repetitive cutting tasks and make meal preparation easy and fun.